What is SDR ??
SDR short for Software Defined Radio is a system in which general electronics hardware of a communication system is replaced by it's software counterparts. This can be achieved in different ways. For example, a typical SDR receiver will consist of a Hardware RF front-end, a local Oscillator and a Mixer, using direct conversion the Mixed output is fed to an analog to digital converter or a PC sound card for sampling or a Using a superheterodyne principle to an IF is sampled using a ADC or PC soundcard and a software.
A very simple and practical example of a SDR is a DRM (digital Radio Mondiale). A normal general coverage superheterodyne receiver with 455 KHz IF is used along with a frequency down converter. As the range of a PC soundcard is limited to around 24 kHz. The 455 KHz IF is mixed with a Local Oscillator frequency of around 467 kHz to derive a down converted output signal of 12 KHz, this is then fed to a PC soundcard Line IN port. The receiver is tuned to a DRM station, with the downconverted 12 Khz output fed to a computer and a DRM receiver software called Dream decodes the digital audio signal.
SDR is used in numerous applications. It also finds a lot of interest a month Amateur radio community. Various SDR receivers and transceivers both homebrew and commercial ones like SoftRock, Flex Radio, Perseus, etc. have been in use and new designs are being created regularly.
What is RTL SDR ??
In Europe, DVB-T is a standard for Digital Terrestrial TV transmissions.  The market is flooded with DVB-T TV tuner Dongles based on RTL2832U Chipset (RTL stands for Realtek).  A lot of these dongles are chinese and are as cheap as $8 (Rs. 500).  Some time in the year 2010 a developer Eric Fry accidentally discovered SDR capabilities of these dongles while trying to get them working on Linux for FM and DVB reception.  An email by Antti Palosaari in 2012 about this discovery on the linux driver development mailing list kicked the action on further development of drivers for Realtek RTL2382U along with some work on these dongles by Osmocom based on their own E4000 based SDRs.  Though there was some confusion about who discovered the SDR capabilities of these dongles, it is now confirmed that Eric was responsible for this discovery and the later developments to getting the RTL2832U to work was done mostly by Antti and Osmocom.
Now coming to the the important points, the dongles.  There are multiple DVB-T dongles available in the market based on the RTL2832U chipset.  They differ based on the tuner chip they use.  Most common tuners are E4000 and R820T.  Most of the initial work was done on the E4000 tuners (Elonics E4000).  Though these Dongles were made only for DVB-T reception, their frequency range was quite high from 54-2200 MHz (with gap of 1100-1250 MHz). Currently, the most widely used tuner is R820t (from Rafael Micro) support for these was added to the development much later, but is now fully operational.  R820t has a better frequency range from 24-1700 MHz and with some simple mods (both software or hardware) this range can be brought down to work from 0 to 1700 Mhz.  One can also use frequency upconverters to tune the frequencies below 24 MHz.
The name RTL SDR is thus based on the Chipset manufacturer RTL for Realtek and SDR for Software defined Radio.
Where to find more information about RTL SDR ??
RTL SDR has a huge community both users and developers. I am listing some of the resources to follow to keep up with this technology:
Join IRC channel ##rtlsdr at freenode.net.  This is a very active IRC channel for any help you need around RTL SDR.
Reddit has quite a big repository of information related to RTL SDR with a huge active user base.
A Google group is also setup to discuss Ultra Cheap SDR options.
Yahoo Group for RTL SDR.
A Google+ community for RTL SDR.
//www.rtl-sdr.com/ has hundreds of tutorials, guides and videos on working with RTL SDR
//www.superkuh.com/rtlsdr.html is another such blog for RTL SDR
Where to buy RTL SDR DVB-T dongle in India ??
The most convenient source of buying RTL SDR dongles in India is eBay for now.  Leave alone brick and mortar shops, even Indian online stores do not sell these dongles.  These dongles mostly being chinese have huge number of vendors on eBay from places like China, Hongkong, etc.  Their cost ranges from $5 to $20.  You have to make a payment using credit card and they ship it usually buy post which takes around 25 to 30 days to reach your address (if you are in India).  It should be possible to convince the seller to ship it by courier with a tracking number by paying extra.  I bought it from eBay (its been a while, I cant remember the seller) for $8 and it reached me (Pune, India) on the 27th day.  I kept following up with the postman.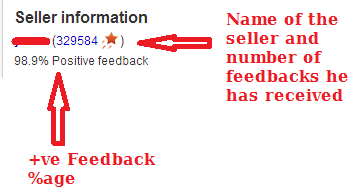 There are a number of sellers on eBay you can buy this from, it would not be fair on my part to list specific sellers.  Any seller selling it at approximately $8 – $10 should be fine.  I have seen a lot of vendors on eBay with a 98% +ve feedback and hundreds or even thousands of products sold.   So, make sure the seller has good rating and he has sold good number of products and achieved that rating.  The example this picture shows a good eBay seller, this seller has received more than 3 lack feedbacks and has maintained more than 98% +ve feedback.  (Number of feedbacks should usually depend on the number of transactions, thus this user must have done more than 3 lack transaction on eBay and achieved this rating, which means this is one of the best eBay seller).
Update:

RTL-SDR.COM has been selling this dongle with high quality (military standard??) components and in a metal case at around $24 and with free registered international shipping.  That's the best one can get for the price. find it here.  They even have an Indian re-seller (a little expensive though).
This is some of the basic information you'll need to jump into the cheapest SDR available in the market today.  If you have some suggestion regarding this post or have some pointer to where one can buy these dongles cheap, leave your comments below.
A System Admin by profession, is a tech buff and a licensed Amateur Radio operator with callsign VU3DES. He is interested in Technology, Amateur radio, Electronics home-brewing, FOSS, Photography and everything tech. He uses this blog to share his views and ideas with people sharing similar interests.
Latest posts by Amogh Desai (see all)