At the HamFest India 2014 conducted on 7th and 8th November 2014 at Hyderbad, a PCB of BITX40 Transceiver was distributed free as a part of the welcome kit.  The BITX40 is a variant of Ashar Farhan's (VU2ESE) original BITX20 design.  Being the Convener of HFI 2014, Ashar Farhan created this BITX40 specifically for the HFI 2014 delegates and a PCB was made part of the welcome kit.  More than a thousand PCBs were distributed, in the view of improving Hombrewing activities in India.  Also a 40 Meter design was chosen as there is a lot of activity on the 40 meter band from South Indian HAMs including some everyday Nets.  It also becomes easier for the home brewer for testing.
Please note the BITX40 design in the below write up, diagrams and PCB has some errors. Please see the video below, along with the correction notes before starting your build.
Here is the scanned write up from the HFI 2014 Souvenir:
(Click on the image to make it bigger. Images are high resolution,  may take some time to load on slow connection)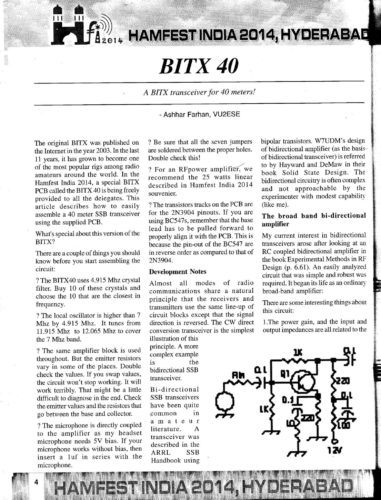 Picture of PCB distributed with the HFI Welcome Kit: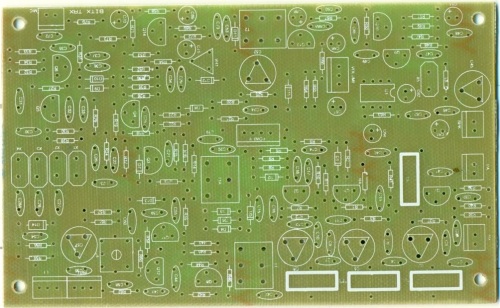 Here's a video taken by my good friend Gurudatta Panda, where Ashar Farhan talks about the BITX40 Design:
BITX40 KIT
A vendor named Modern Electronics was also selling all the components (including crystals, toroids, etc.) required for this build.  Their contact details are here:
Modern Electronics
Bank Street,
Hyderabad – 500 095
Phone:  Nandlal Hemdev  – +91 40 66781264,  Neeraj Hemdev – +91 40 42215076
Email: modern_electronics4u@yahoo.com
Picture of the Kit is here:
BITX40 Kit by Modern Electronics, Hyderabad @ Rs.500/-
Modern Electronics taking mail order for the kit @  Price Rs. 500 + shipping
As per comments below, Modern Electronics has updated their price to Rs. 1200/- 
Errors/Corrections
Ashar Farhan, VU2ESE also took a session showing some corrections to the errors that were made in the PCB/Design or while printing them in the HFI 2014 Souvenir.  I made a video of this session:
Correction Notes compiled with inputs from home brewers who have built it:
 Ashok Joshi VU2ASH: Audio of the receiver is very low, to correct this Change  R29 to 10 Ohms ; C73 to 0.001 uF and R64 to 10 Ohms.
Ashar Farhan (email on bitx20 group): The bitx40 pcb has one error. the first mixer's transformer T1A (the one that is connected to the RF amplifier) has a missing ground connection.  T1A's primary and the center tap (formed by connecting opposing ends of the two other winding) should have been connected to the ground. instead, they are only connected to each other and the ground connection is missing. a jumper needs to be soldered on the PCB side.
Le Bleu Enchanteur VU2SWX: 

The 12v line must be connected to bfo via jumper. It is printed on the component layout in the souvenir as j3 but not on the board. I just wired it and powered up. I can listen to the bfo at 8 MHz on my BC radio ( twice my current if). So the stage works.

Ashok Joshi VU2ASH:

if you match the diodes for equal forward voltage drop, you don't require the preset, 10 pf and 22pf trimmer in modulator section at all. Just short the preset three pins together.  Out of 25 or so diodes provided in the kit you can easily get two matched to milivolt range for the Balanced Modulator, Still I used the preset in my assembly, but had to keep it in exact centre !!
That is all for now, I will keep this post updating as and when I get more info.  Also Farhan and HFI 2014 Team has promised to come out with a video + Errata to the BITX40 Diagrams in the HFI Souvenir and errors in the PCB, with all the corrections.
If you have any suggestions or information to add to this post, please feel free to leave your comments below!
A System Admin by profession, is a tech buff and a licensed Amateur Radio operator with callsign VU3DES. He is interested in Technology, Amateur radio, Electronics home-brewing, FOSS, Photography and everything tech. He uses this blog to share his views and ideas with people sharing similar interests.
Latest posts by Amogh Desai (see all)