We had a little bigger weekend this Independence Day the 15th Aug 2016.  Had been planning to go for a trip for some time but nothing was getting finalized due to reports of heavy traffic, long queues and landslide, in the news on most holiday locations around Pune.  On last moment, I decided to take the Varandha Ghats trip, as this area is not much hyped by holiday bloggers and also doesn't show much activity on websites/forums.  Seemed like a quiet route.  Also, a quick search showed few places we could visit on the way ending the trip at Shvithar Ghal (शिवथर घळ). So I laid it out on my Map as below:
We started at about 7:30 AM (about 8 AM reached Swargate, Pune), took the Katraj Ghat to get to the NH48 a.k.a. Pune – Satara Road till the Kapurhol Village.  Took our 1st stop for breakfast at the Natraj Hotel to fill in some Idlis, Meduwada, Upma and Misal and toped it with some hot tea.  Ambiance was not good but the food was OK.
Moving further towards Kapurhol, took the turn towards Bhor (the turn below the over bridge right after the HP petrol Pump).  This Kapurhol – Bhor road took us straight to the Bhatghar dam where we took another stop.  Dam was overflowing with some gates opened and it was a good site.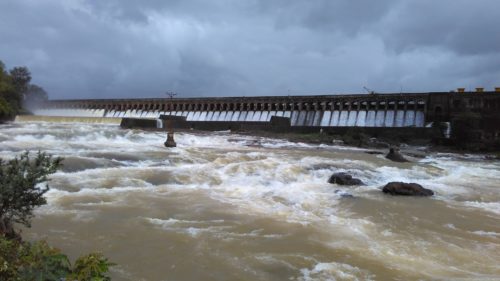 After a quick halt at the Bhatghar dam, we started towards the next dam in our list the Deoghar Dam.  We took multiple stops on the way to enjoy and capture the nature around.  With rainy season at its peak, greenery all around!
Next stop was the Nira Deoghar dam. This is also the point from where the Varandha Ghats start.  the road is not maintained very well, so you have to drive very slow and carefully.  This area is also quiet and secluded.  However, the whole ghat section has many waterfalls and you are bound to stop at most of them.  Some of them are quite big and very beautiful.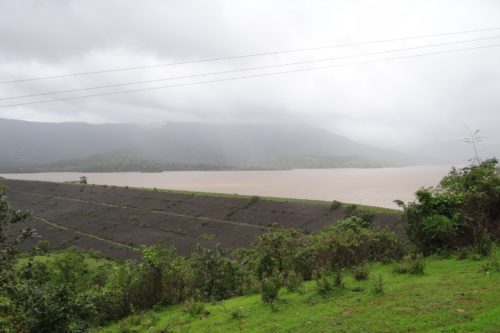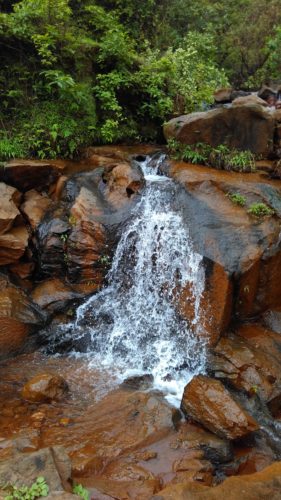 On the way up the Ghats we also found this point to munch on some Kanda Bhajji, Wada-Pao and chai!
Further on, the ghat was steeper and road was at its worst.  A mere 100 Km journey could take almost 3 hours to cover the entire ghat starting from Deoghar dam till Barasgaon.  However the views in the entire ghat section are mind blowing beautiful like the one right at the tip of the Varandha Ghat below.
After the refreshing drive through the ghats, getting drenched into some of the waterfalls and rain, we moved further down the ghat for our final stop at the Shivthar Ghal.  Bad road ended with the ghat and we could pickup some speed.  Once the Ghat is over there are two roads leading to Shivthar Ghal, one is a shortcut from Parmachi village, this road is just 10 Kms but is in a very bad shape however, many villagers on the way advised us to take the other route from Barasgaon which was about 20 Kms but was a very good road to take.
And finally we reached the last destination in our list at about 3 PM.  Shivthar Ghal is a little cave at the foot of a giant waterfall where Shri Samarth Ramdas, the guru of King Shivaji, spent almost 22 years of his life.
This is the place where Samarth Ramdas Swamy is said to have met Chatrapati King Shivaji Maharaj for the first time and this is the same place where he wrote The Dasbodh.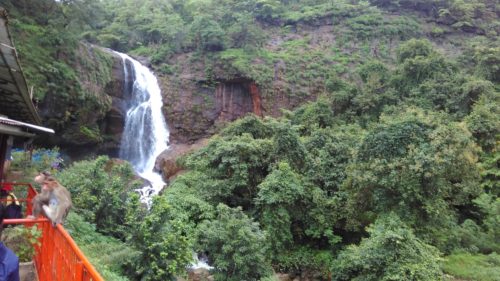 The caves are maintained by Shri Samarth Seva Mandal trust which is a voluntary group.  They also serve a simple Dal – Khichdi lunch for visitors as a Prasad for free, timings are 12:00 PM to 1:30 PM.  If the Trust is given a prior notice, they also arrange a stay at their dormitory for distant visitors.  Donations are accepted.  There are small shops/restaurants run by locals near the parking bay, where you can get some fast food (wada pao, poha, bhajji, buttermilk, tea, etc).
We spent about an hour moving around the caves, waterfalls and eating a little at the parking area and started our journey back home.  It was a wonderful family trip, it was definitely more fun  because of the waterfalls and rains on the way.  Though a secluded and quite road, it was safe as we were big group and we made it back to the highway before it was dark.
Leave your comments below if you have any suggestions for places around pune which one can visit or if any feedback about shortcuts, stops and eateries on the way,  or anything you'd like to share !
A System Admin by profession, is a tech buff and a licensed Amateur Radio operator with callsign VU3DES. He is interested in Technology, Amateur radio, Electronics home-brewing, FOSS, Photography and everything tech. He uses this blog to share his views and ideas with people sharing similar interests.
Latest posts by Amogh Desai (see all)