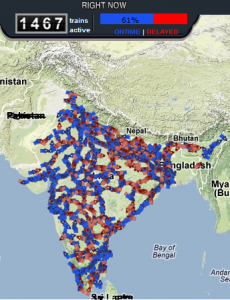 Indian Railways (CRIS) has launched a new system called RailRadar to track location of trains on a Google Maps.  This service tracks almost 6,500 trains running around India on real time basis giving you precise location of each train on a map.
There are around 10,000 trains operating in India everyday and currently 6,500 of them are being tracked by this system.  This system has a colour code to show if the train is running on time or is delayed.  A train with Red color code is delayed and with a blue code is the one on scheduled time.  Clicking on the train shows you a pop-up with further information about the current location, previous and next station, schedule status, etc.
The maps service can be found at http://railradar.trainenquiry.com/
This website is very user friendly and the maps respond fast as it is directly based on the Google Maps API.  Unlike most of the other government websites this service is interactive and has very nice colour scheme and design.  This is one of the important initiative Railways has taken to bring their services online.  A very good news for Indian train passengers which will greatly help frequent travelers who depend on Railways.
A System Admin by profession, is a tech buff and a licensed Amateur Radio operator with callsign VU3DES. He is interested in Technology, Amateur radio, Electronics home-brewing, FOSS, Photography and everything tech. He uses this blog to share his views and ideas with people sharing similar interests.
Latest posts by Amogh Desai (see all)